Kuyay Travel
Gay Travel in Patagonia ... and beyond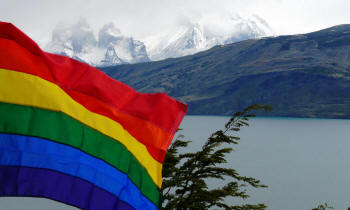 Region: South America
Key Stops: Chile, Argentina, Brazil
Departure City/Costs: Various
Dates: Available Year Round
Price: ....starting at $1,690
Tour Operator: Kuyay Travel
Patagonia is calling you!
We know you have numerous options when it comes to planning your vacation, especially the number of large, mainstream operators and agencies. Unfortunately, the offerings of tours for Gays and Lesbians is still limited, in particular those of the nature and adventure variety.

Compare our prices, our programs, all that is included, and our complete dedication to you, the only reason we are in business.

Here are a few reasons to consider:

Kuyay (which means "Love" in Quechua, the most spoken indigenous language in Latin America) is a local company, so your business supports the local economy and helps preserve the beauty of our natural environment,

We are the only Gay-owned and Operated Tour Operator / Travel Planning business in Patagonia understanding the unique needs of the GLBT community,

Since we own and operate the business, planning, decision-making and problem solving are quick, and our personalized service is unbeatable,

We know that our clients primarily want a hassle-free vacation, customized to their needs, exceeding their expectations, and all at a fair price,

Our escorted tours are very limited in size (8 max.), which both reduces our impact on the environment and ensures a more intimate experience,

There are no "middlemen", so by keeping our overhead low and working only with local operators and GLBT businesses, our prices are nearly as amazing as Patagonia itself!
Following are our Top Ten places to visit in southern South America. With so many varied destinations and exciting activities to experience, you could actually spend a lifetime exploring down here, and never see the same place twice!

Puerto Varas, Chile in the country's Lakes Region

Machu Picchu, Peru near Cusco

Torres del Paine National Park, Chile

Puyuhuapi, Chile near the San Rafael Glacier

San Carlos de Bariloche, Argentina in the country's Lakes District

El Calafate, Argentina near the Perito Moreno Glacier and El Chalten, the trekking capital of Argentina

Iguazu Falls, Argentina / Brazil

Santiago, Chile

Buenos Aires, Argentina

San Pedro de Atacama, Chile
Our trips are for anyone who enjoys getting out in nature, visiting new cultures, witnessing incredible landscapes and just having a good time! The Overland Tours include daily easy-to-moderate activities, and the only thing required is that you are in reasonably good shape for your age. We have had clients in their 70s, and I had a hard time keeping up with them!

Obviously, if you are into more adventurous challenges, we can easily put together a customized trip for you. Sea kayaking, Canopy, Rafting on up to level V rapids, Canyoning, Canoeing, Mountain climbing, Glacier trekking, Multi-day horseback riding trips, Trekking in Tierra del Fuego, Fly fishing, and much more.
For more information please check our website at http://gaypatagonia.com
Additional Information:
All prices quoted are in US dollars.
Back