Costa Rica

View Road and Street Map
Flag Country Information Weather

=Gay/Lesbian Owned/Operated G=Gay/Lesbian Only P=Primarily Gay/Lesbian
F=Gay/Lesbian Friendly M=Men Only W=Women Only O=Clothing Optional

Featured Properties
Quepos/Manuel Antonio

Gay Owned/Operated; Primarily Gay/Lesbian

Clothing Optional

Just outside Quepos, our small resort is in a quiet and safe area on the road to Manuel Antonio NP. Set in a wonderful garden of tropical plants and exotic wildlife. In the quietest and most private part of the garden we have a big Jacuzzi. Free breakfast on the pool terrace with a fantastic panoramic view. Our staff is highly professional & friendly and can help you find anything from a tour, dinner and night entertainment.

San José

Gay Owned/Operated; Primarily Gay/Lesbian

Your adventure "homebase" while touring "the Wilds of Costa Rica"... this Spanish courtyard style boutique resort offers you the comforts of home. Varied room styles from budget saver to apartments with all the amenities including full cooked breakfast. Featuring new restaurant & pool bar, solar pool, sundecks, hot tub, small gym & spa/massage rooms. Well known for attentive service including personal travel planning.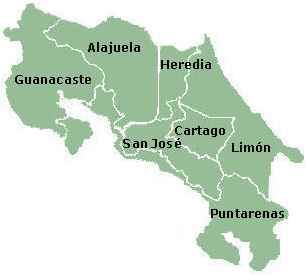 View Road and Street Map
Alajuela

F

Atenas

F

La Fortuna

F

Los Angeles Sur

F

San Ramon

F

Santa Clara

F

Flamingo Beach

G

O

Nuevo Arenal

F

Peninsula Papagayo

F

Playa Grande

F

Playa Junquillal

F

Playa Sámara

F

Playa Ocotal

F

F

Santa Cruz

F

Tamarindo

P

F

O

F

F

F

Santa Barbara

F

O

F

Guapiles

F

Playa Chiquita

F

F

F

Puerto Viejo

F

F

F

Beachfront Boutique hotel constructed out of local hardwoods, accommodating adventurous Gay & Lesbian travelers looking for a friendly, comfortable, tranquil place to stay while visiting the Caribbean Coast of Costa Rica.

F

F

F

F

F

Dominical

F

F

Escazu

F

Golfito

F

F

Montezuma

F

Ojochal

F

Pérez Zeledón

P

Playa Herradura

F

Playa Jacó

F

We are a boutique hotel located in the heart of Jacó. With ocean views and walk to all restaurants and bars but quiet location. We welcome all guests as special regardless of race, gender, or sexual preference. Our aim is to provide a special experience & great holiday.

F

Playa Zancudo

F

Quepos/Manuel Antonio

F

F

F

F

F

O

F

F

F

F

F

F

P

F

F

G

F

Gay owned/operated and exclusive for gays, lesbians and their friends. Located in the absolutely best area of Quepos, Manuel Antonio with an awesome view of the rain forest and the Pacific. Short walking distance to the National Park, beaches, restaurants and bars.

G

O

F

F

F

F

P

O

F

F

Santa Teresa

F

Uvita de Osa

F

Escazú

F

San José

F

P

F

F

F

In the upscale Rohrmoser embassy district of San Jose's "West side". Minutes on foot, taxi or bus to La Sabana Park and onto central downtown. The best attentive full service gay & inclusive resort with all the amenities you deserve. New pool bar & restaurant.

P

F

In an excellent location, in the historic quarter of San José, within easy walking distance of all the museums, great restaurants, the Simon Bolivar Zoo, the National Theatre, souvenir shopping, banking, the central market and the infamous night life circuit.

F

F

F

F

F

G

F

F

San Pedro

F

Santa Ana

F

Santa Cruz de Leon Cortes

F

Santana

M

O
Gay and Lesbian Campgrounds